BioCity, Nottingham, UK
Monday 16 - Tuesday 17 May 2016
Organised by SCI's Fine Chemicals Group and RSC's Biological and Medicinal Chemistry Sector in partnership with Sygnature Discovery
IMPORTANT: There are two spaces remaining on this conference. These will be provided on a first-come first-served basis. Please email conferences@soci.org for a registation form.
Synopsis
Perturbation of cell signalling through inhibition of kinase enzymes has delivered nearly 30 approved medicines to date. The seventh SCI/RSC symposium on kinase inhibitor design will feature several highly pertinent themes including new approaches and technologies to modulate and measure kinase function as well as diverse medicinal chemistry case studies. The symposium will also draw on the lessons from history to provide insight into the future direction of the field.
Attendees
In addition to medicinal discovery scientists wishing to further their knowledge of kinases, the meeting will also be of great value to the wider drug discovery community. It will provide transferable lessons and insight into how new approaches and technologies are being applied in a successful and maturing field of research.
SCI Members attending this meeting are able to claim CPD points.
Programme
Sunday 15 May
21.00
Welcome drinks reception
Jurys Inn Nottingham Hotel
Monday 16 May
09.00
Registration and refreshments
09.30
Opening remarks
09.35
Kinase drug discovery: past, present, and future
Mark Bunnage, Pfizer, USA
10.15
Identifying high quality, potent and selective inhibitors of ATM kinase: discovery of AZD0156
Kurt Pike, AstraZeneca, UK
10.55
Refreshment break
11.25
Kinase identification of proximal substrates (KIPS): a novel chemical genetics approach for kinase substrate identification
Jon Roffey, Cancer Research Technology, UK
12.05
Roger Griffin Memorial Lecture:
Development of potent inhibitors of the DNA-dependent protein kinase (DNA-PK)
Celine Cano, Northern Institute for Cancer Research, UK
12.45
Lunch and exhibition
14.00
The ups and downs of IRE1 kinase-ribonuclease allosteric ligands
John Caldwell, The Institute of Cancer Research, UK
14.30
Fragment molecular orbital method in kinase 'real-life' structure-based drug design
Ewa Chudyk, Evotec (UK) Ltd, UK
15.00
Protein degradation using PROTACs as a novel approach to silence kinase function
John Harling, GlaxoSmithKline, UK
15.30
Refreshment break
16.00
Discovery and optimisation of 2,3-dihydroimidazo[1,2-c]quinazolines as PI3K inhibitors
Julien Lefranc, Bayer Pharma AG, Germany
16.40
Discovery of the EGFR-T790M mutant inhibitor PF-06747775; irreversible inhibitor design and proteomic profile
Simon Planken, Pfizer, USA
17.20
Flash poster presentations
17.45
Networking reception, exhibition and posters
19.00
Transfer by shuttle bus to conference dinner
19.30
Conference dinner
The Riverbank Bar & Kitchen
Tuesday 17 May
09.00
A retrospective of kinase drug discovery at AstraZeneca: the critical role of institutional medicinal chemistry knowledge in generating new leads
Jason Kettle, AstraZeneca, UK
09.40
Identification of highly potent and mono-selective RIP1 kinase inhibitors targeting a unique allosteric pocket
Phil Harris, GlaxoSmithKline, USA
10.20
Refreshment break
10.45
Poster prize presentation
10.50
PDGFR inhibitors suitable for inhalation as a treatment for lung remodeling in pulmoanary arterial hypertension (PAH)
Duncan Shaw, Novartis, USA
11.30
Discovery of non-covalent BTK inhibitors for the treatment of rheumatoid arthritis and lupus
James Crawford, Genentech, USA
12.10
Interactive session
12.45
Lunch and exhibition
13.45
Filgotinib: a selective JAK1 inhibitor
Oscar Mammoliti, Galapagos, Belgium
14.25
Design strategies for the development of selective kinase inhibitors
Stefan Knapp, Johann Wolfgang Goethe-University, Germany
15.05
Concluding remarks
Please click here to view the event flyer.
Organising Committee
John Harris, SCI/CJH Consultants UK
Simon Peace, SCI/GlaxoSmithKline
Sarah Rook, SCI/Evotec (UK) Ltd
Pascal Savy, SCI/Charles River Laboratories
Mihiro Sunose, SCI/Sygnature Discovery
Martin Swarbrick, RSC/Cancer Research Technology
Andrew Thomas, SCI/AstraZeneca
Call for Poster Abstracts
Abstracts for poster presentations are now invited. Those presenting may also elect to advertise their poster via oral presentation of a single slide 'flash' poster. Please send a maximum one page abstract to conferences@soci.org with the subject line "Kinase 2016 – poster submission" by Friday 18 March 2016. Please note, if you are an SCI Member your poster will be eligible to be displayed in the C&I area of our website. Click here to see some examples.
Please click here to download the poster abstract template.
Exhibition
An exhibition will run alongside the conference during refreshment breaks, for companies and related organisations who may wish to exhibit. For further information and prices please email conferences@soci.org.
Travel
BioCity is located on Pennyfoot Street, Nottingham and can be accessed easily from both the North and the South of England via the M1. For detailed directions please click here. Please note: there is no parking available at BioCity, please click here for local car parks within a 10 minute walk from the venue.
Nottingham train station is situated a 10–15 minute walk from BioCity (download directions here) and the closest international airport to Nottingham is East Midlands Airport, 13 miles from the conference venue. This is approximatly a 30 minute taxi ride to the conference venue and Jurys Inn Nottingham hotel.
Accommodation
An accommodation package is available for this event. This package consists of two nights at Jurys Inn Nottingham (Sunday 15 and Monday 16 May) at a special rate of £90 (breakfast included). SCI will organise the administration of your booking with Jurys Inn Nottingham.
The hotel is situated approximatly 5 minutes' walk from Nottingham train station and 5–10 minutes from the event venue at BioCity (download directions here). If you are driving to the hotel, click here for Jurys Inn's car parking information and prices.
Welcome Drinks
The Organising Committee are hosting a welcome drinks reception on Sunday 15 May at Jurys Inn Nottingham, in the hotel's restaurant, from 21:00. Please indicate if you intend to join us at the drinks reception when making your booking.
Please note: there will be no food included at the drinks reception, a list of local restaurants can be found here.
Conference Dinner
A buffet dinner will be held at The Riverbank Bar and Kitchen on Monday 16 May. A shuttle bus service will be provided to transfer all delegates from BioCity to the restaurant at 19:00 with dinner being served at 19:30.
Please note: the conference dinner is included in the delegate registration fee.
Delegate Fees
Early bird fees before Friday 01 April 2016
GB£240 . . . . . . . . . . . . . . . . . SCI/RSC Member
GB£125 . . . . . . . . . . . . . . . . . SCI/RSC Student Member
GB£145 . . . . . . .. . . . . . . . . . .SCI/RSC Subsidised Member*
GB£290 . . . . . . . . . . . . . . . . . Non-Member
Standard fees after Friday 01 April 2016
GB£290 . . . . . . . . . . . . . . . . . SCI/RSC Member
GB£150 . . . . . . . . . . . . . . . . . SCI/RSC Student Member
GB£175 . . . . . . . . . . . . . . . . . SCI/RSC Subsidised Member*
GB£350 . . . . . . . . . . . . . . . . . Non-Member
* Criteria applies.
For booking terms and conditions click here.
Venue
BioCity Nottingham
Pennyfoot Street
Nottingham
NG1 1GF

Please click here for a location map.
For more information, please contact: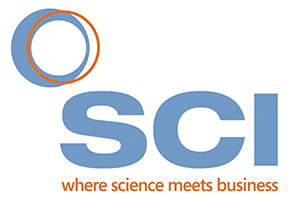 Conference Team
T: +44 (0)20 7598 1561
E: conferences@soci.org

Sponsor
With thanks to our generous host and sponsor
Exhibitors
Related Links