Manchester Conference Centre, UK
Tuesday 14 - Thursday 16 May 2019
Organised by SCI's Fine Chemicals Group, RSC's Biological and Medicinal Chemistry Sector and RSC's Speciality Chemicals Sector
#SCIRSCFlow2019
Synopsis
This three day conference is organised by SCI and RSC. The event reflects the advances made with continuous flow technology over recent years and the impact it is making right across the chemicals industry spanning discovery applications, process development advances and value for commercial manufacture of fine and speciality chemicals. To reflect the mix of interests and applications across the chemistry community, the symposium is structured as two back to back events with options for attending two consecutive days or all three.
Attendees
The meeting is directed at individuals with a curiosity into what Flow is and how it may benefit them or their organisations, and those already involved in the area. The presentations will cover aspects from microfluidics discovery to production scale manufacture, highlighting the latest developments, novel methods, engineering and their application. This meeting will be of particular interest to synthetic chemists, process development chemists, chemical engineers and plant managers operating in pharmaceutical, agrochemicals and the fine and speciality chemicals industries.
Programme
Tuesday 14 May
08.00
Registration and refreshments
09.30
Welcome and introduction
09.45
Flow conditioning: promoting and extending our synthesis capabilities
Ian Baxendale, Durham University
10.30
Flow photochemistry as a tool for drug discovery
Jesús Alcázar, Janssen-Cilag
11.00
Refreshment break, exhibition and posters
11.45
Electrification of synthesis and advances in flow chemistry
Thomas Wirth, Cardiff University
12.15
Electrochemical generation of catalysts using batch and flow technology
Charlotte Willans, University of Leeds
12.45
Lunch, exhibition and posters
14.00
Biocatalysis in flow
Nick Turner, University of Manchester
14.30
Speaker to be confirmed
15.00
Flash poster presentations
15.20
Refreshment break, exhibition and posters
16.00
Development and exploitation of a flow-based nanoscale automated reaction screening
Paul Richardson, Pfizer
16.30
Impact of flow chemistry in early process development
Benoit Cardinal-David, Abbvie
Wednesday 15 May
09.00
From flow chemistry in the lab towards industrial implementation on scale – case studies on continuous API synthesis
Oliver Kappe, University of Graz
09.45
Development approach for a flow process to produce pharmaceutical intermediates
Hannah Robinson, GlaxoSmithKline
10.15
Refreshment break, exhibition and posters
11.00
Multiphase reaction systems in flow
John Blacker, University of Leeds, IPRD
11.30
Cellular foam bed reactors for continuous flow catalysis: the state-of-the-art and future challenges
Xiaolei Fan, University of Manchester
12.00
Flash poster presentations
12.15
Lunch, exhibition and posters
14.00
Medicines for all institutes: low cost routes via new methods, mechanisms and technology
Tyler McQuade, Virginia Commonwealth University
14.45
Multi-step process development
John Naber, MSD
15.15
Refreshment break, exhibition and posters
16.00
Going FAST: Flow and Automation Strategy Team and its impact on API process development and manufacturing
Moiz Diwan, Abbvie
16.30
Talk title to be confirmed
Sam Bourne, Arcinova
17.00
Homogeneous Catalysis @ BASF
Rocco Paciello, BASF
17.30
Networking reception and conference dinner
Thursday 16 May
09.00
Toward filing a multistage continuous process for API
Malcolm Berry, GlaxoSmithKline
09.45
Continuous primary processing – from an R&D concept to implementation at an industrial scale
Charlotte Wiles, Chemtrix
10.15
Refreshment break, exhibition and posters
11.00
Flow chemistry at industrial scale: enlarging operating windows and increasing productivity
André de Vries, Innosyn
11.30
Commercialization of a high-pressure reaction for Gefapixant
Kevin Maloney, MSD
12.00
Poster prizes
12.15
Lunch, exhibition and posters
13.30
Continuous crystallization of an active pharmaceutical ingredient: from lab to pilot plant
Barbara Wood, University College Dublin, and Pat Sweeney, KTL, GTS API Technology Group, Pfizer Ireland Pharmaceuticals
14.15
An industry demonstration of small volume continuous manufacturing for a small molecule drug substance under cGMP conditions
Robert Moylan, Lilly
14.45
Refreshment break, exhibition and posters
15.30
Gas-liquid hydrogenation in continuous flow for process intensification and rapid process
Nikolay Cherkasov, Stoli Catalysts
16.00
Talk title to be confirmed
Clive Badman, University of Strathclyde
16.30
Close
Organising Committee
Dr Mark Bratt, GW Pharmaceuticals plc
Dr Stuart.Cameron, Concept Life Sciences
Dr Fred Hancock, SCI
Dr Gareth Jenkins, Arcinova
Dr Nat Monck, SCI / Evotec
Call for Abstracts
Papers are invited for oral and poster presentation. Abstracts should be sent by email to conferences@soci.org (an abstract template can be downloaded here) by Friday 15 February 2019 indicating preference for oral, poster presentation or flash presentation (two minute presentation of poster highlights).
Exhibition and Sponsorship
An exhibition will take place alongside the conference for companies and related organisations who may wish to exhibit. Please email conferences@soci.org for further information and prices. Spaces are limited and will be allocated on a first-come, first-served basis.
Venue
Manchester Conference Centre
Sackville Street
Manchester
M1 3BB
Please click here for a location map.
Delegate Fees
Early bird fees before Friday 29 March 2019
Three day fee
Two day fee
SCI / RSC Member
£425
SCI / RSC Member
£275
SCI / RSC Student Member
£175
SCI / RSC Student Member
£150
Non-Member
£525
Non-Member
£370
Standard fees after Friday 29 March 2019
Three day fee
Two day fee
SCI / RSC Member
£510
SCI / RSC Member
£330
SCI / RSC Student Member
£210
SCI / RSC Student Member
£180
Non-Member
£630
Non-Member
£445
Did you know that as an SCI member you can save on this and future event delegate fees?
Join SCI now; individual membership is only £90 pa (£75 pa direct debit). To find out more click here.
For booking terms and conditions click here.
Accommodation
A limited number of rooms have been held at the Pendulum Hotel, which the Manchester Conference Centre is within.
When booking, please reference that you are visiting for the SCI / RSC Continuous Flow IV conference.
Rate: £89/night
Available: Monday 13 May – Thursday 16 May 2019
E: stay@pendulumhotel.co.uk
T: +44 (0)161 955 8000
Conference Dinner
The conference dinner will take place on Wednesday 15 May. Venue details will be confirmed shortly. If you would like to book a place, please select this as an extra when booking your conference attendance. The cost of the conference dinner is £50.
For more information, please contact: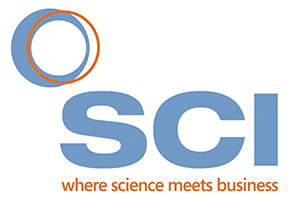 Conference Team
T: +44 (0)20 7598 1561
E: conferences@soci.org
Partner
Sponsor
Related Events