Pendulum Manchester Conference Centre, UK
Tuesday 14 - Thursday 16 May 2019
Organised by SCI's Fine Chemicals Group, RSC's Biological and Medicinal Chemistry Sector and RSC's Speciality Chemicals Sector
#SCIRSCFlow2019
Synopsis
This three day conference is organised by SCI and RSC. The event reflects the advances made with continuous flow technology over recent years and the impact it is making right across the chemicals industry spanning discovery applications, process development advances and value for commercial manufacture of fine and speciality chemicals. To reflect the mix of interests and applications across the chemistry community, the symposium is structured as two back to back events with options for attending two consecutive days or all three.
Attendees
The meeting is directed at individuals with a curiosity into what Flow is and how it may benefit them or their organisations, and those already involved in the area. The presentations will cover aspects from microfluidics discovery to production scale manufacture, highlighting the latest developments, novel methods, engineering and their application. This meeting will be of particular interest to synthetic chemists, process development chemists, chemical engineers and plant managers operating in pharmaceutical, agrochemicals and the fine and speciality chemicals industries.
Themes and topics
Research and Discovery
Flow Technology for molecule makers
Process Development and Scale up
The Interface of chemistry and engineering
Commercial Manufacture
Industrial applications and further challenges
Confirmed Speakers
Prof Ian Baxendale, Durham University, UK
Prof Oliver Kappe, Karl-Franzens University Graz, Austria
Prof Tyler McQuade, Virginia Commonwealth University, USA
Speakers from Process Chemistry and Technology groups at GlaxoSmithKline, MSD and BASF
Organising Committee
Dr Mark Bratt, GW Pharmaceuticals plc
Dr Stuart.Cameron, Concept Life Sciences
Dr Fred Hancock, SCI
Dr Gareth Jenkins, Arcinova
Dr Nat Monck, SCI / Evotec
Call for Abstracts
Papers are invited for oral and poster presentation. Abstracts should be sent by email to conferences@soci.org (an abstract template can be downloaded here) by Friday 16 November 2018 indicating preference for oral, poster presentation or flash presentation (two minute presentation of poster highlights).
Exhibition and Sponsorship
An exhibition will take place alongside the conference for companies and related organisations who may wish to exhibit. Please email conferences@soci.org for further information and prices. Spaces are limited and will be allocated on a first-come, first-served basis.
Venue
Pendulum Manchester Conference Centre
Sackville Street
Manchester
M1 3BB
Please click here for a location map.
Delegate Fees
Early bird fees before Friday 29 March 2019
Three day fee
Two day fee
SCI / RSC Member
£425
SCI / RSC Member
£275
SCI / RSC Student Member
£175
SCI / RSC Student Member
£150
Non-Member
£525
Non-Member
£370
Standard fees after Friday 29 March 2019
Three day fee
Two day fee
SCI / RSC Member
£510
SCI / RSC Member
£330
SCI / RSC Student Member
£210
SCI / RSC Student Member
£180
Non-Member
£630
Non-Member
£445
Did you know that as an SCI member you can save on this and future event delegate fees?
Join SCI now; individual membership is only £90 pa (£75 pa direct debit). To find out more click here.
For booking terms and conditions click here.
For more information, please contact: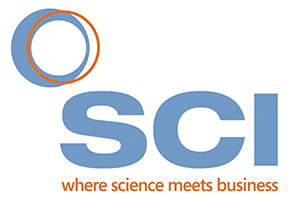 Conference Team
T: +44 (0)20 7598 1561
E: conferences@soci.org
Partner
Bronze Exhibitors
Sponsor
Related Events