The event is not available to book.
Benjamin Franklin Institute of Technology, Boston, USA
Tuesday 15 May 2018
Organised by SCI's Fine Chemicals Group and the Academic Drug Discovery Consortium (ADDC)
***IMPORTANT***
This event has been postponed further information will be available in due course
Synopsis
In hit finding for chemical probe and drug discovery, a screen is only as good at the molecules that go into it. With the vast potential chemical space, how do you decide what to include in your virtual, high-throughput, or fragment-based screen? The 1-day symposium, "Innovation in Design and Acquisition for Compound Screening Libraries," seeks to explore this question and create a dynamic, interactive environment for discussion of this important topic. In this ever-evolving area, it is critical to understand the current design and selection methods of compound screening libraries, along with the range of available business models for library acquisition and enhancement. The conference should appeal to medicinal chemists, synthetic chemists, computational chemists and compound management teams from industry and academia involved in library design and acquisition along with those involved in hit and lead generation primarily in drug discovery and agrochemistry.
Presentations from industry, academia and commercial compound vendors will include talks on computational design, focused library sets for phenotypic screening, 3-d fragment libraries, attention to physicochemical properties, opportunities from advances in synthetic organic chemistry as well as the compound acquisition market place. In addition, there will be ample opportunities for discussion and networking whilst browsing trade stands from the leading library suppliers.
Attendees
This meeting will be of interest to scientists interested in early stage drug discovery and screening, Medicinal Chemists, Computational Chemists, Compound Management Chemists, those working in Chemical Procurement, academics and students.
SCI Members attending this meeting are able to claim CPD points.
Programme
08.00
Registration
09.00
Welcome
09.05
From Simple Mixtures to DNA Encoded Libraries: A 40-year journey
Aubrey Mendonca, ChemRoutes Corporation
09.30
Title to be confirmed
Ajit Jadav, NIH/NCATS
09.55
Title to be confirmed
Nicholas Skelton, Genentech
10.20
Exhibitor talks
10.45
Refreshments and networking
11.30
Discovery of novel chemistry for new biology from within a billion compounds you can buy in 6 weeks
Professor John Irwin, University of California, San Francisco Pharmaceutical Chemistry

11.55

Exhibitor talks
12.20

Post screening triage processes: quality-driven hit prioritisation
Dr Heather Tye, Evotec UK

12.45
Lunch, Networking and Poster session
14.00

Mechanism of action libraries in academic screening
Dr Caroline Shamu, Harvard Medical School

14.25

Human kinase repurposing strategies for neglected tropical disease drug discovery
Dr Lori Ferrins, North Eastern University

14.50
Exhibitor talks
15.15
Accessing new chemical space through flow technology for early phase drug discovery
Balázs Gyimóthy, Cominnex Zrt
15.40
Refreshments and networking
16.15

Evolution of the AstraZeneca Screening Library
Dr Dean Brown, AstraZeneca Pharmaceuticals

16.40

Designing, Curating and NMR Screening New Fragment Libraries for Discovering Small-molecule Drug Leads
Professor Steven LaPlante, Nmxresearch

17.05

Novel Natural Product-Based Macrocyclic Platform: MacroEvoLution
Dr Dietmar Wolf, AnalytiCon Discovery

17.30
DNA-encoded library: Diversity via Building blocks and scaffolds
Dr Yun Ding, GlaxoSmithKline R&D
17.55
Closing Remarks, Wine Reception and Posters
19.30
Close
Organising Committee
Jayshree Mistry, SCI
Aubrey Mendonca, ChemRoutes Corporation
Yun Ding, GlaxoSmithKline
Stephen Frye, UNC
Michelle Arkin, UCSF
Exhibition and Sponsorship
An exhibition will take place alongside the conference during refreshment breaks for companies and related organisations who may wish to exhibit. For further information and prices, please email conferences@soci.org.
Venue
Benjamin Franklin Institute of Technology
Boston
MA
02116
USA
Please click here for a location map.

Delegate Fees
Please note: all prices will be charged in UK Sterling. An equivalent in US dollars is listed below as a guide.
Early bird before fees Monday 16 April 2018
| | | | |
| --- | --- | --- | --- |
| | | USD | GBP |
| | SCI/ADDC Member | 140 | 99 |
| | SCI Student Member | 50 | 35 |
| | SCI Subsidised Member | 90 | 64 |
| | Non-Member | 180 | 128 |
Standard fees after Monday 16 April 2018
| | | | |
| --- | --- | --- | --- |
| | | USD | GBP |
| | SCI/ADDC Member | 200 | 142 |
| | SCI Student Member | 60 | 43 |
| | SCI Subsidised Member | 125 | 89 |
| | Non-Member | 250 | 177 |
If you wish to pay in dollars, please email conferences@soci.org.
For booking terms and conditions click here.
Did you know that as an SCI member you can save on this and future event delegate fees?
Join SCI now; individual membership is only £90 pa (£75 pa direct debit). To find out more click here.
For more information, please contact: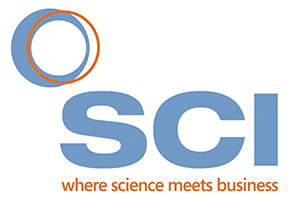 Conference Team
T: +44 (0)20 7598 1561
E: conferences@soci.org
Sponsors


Our Bronze Sponsors are: Chembridge, Collaborative Drug Discovery, ComInnex Inc and MedChemExpress
Related Links